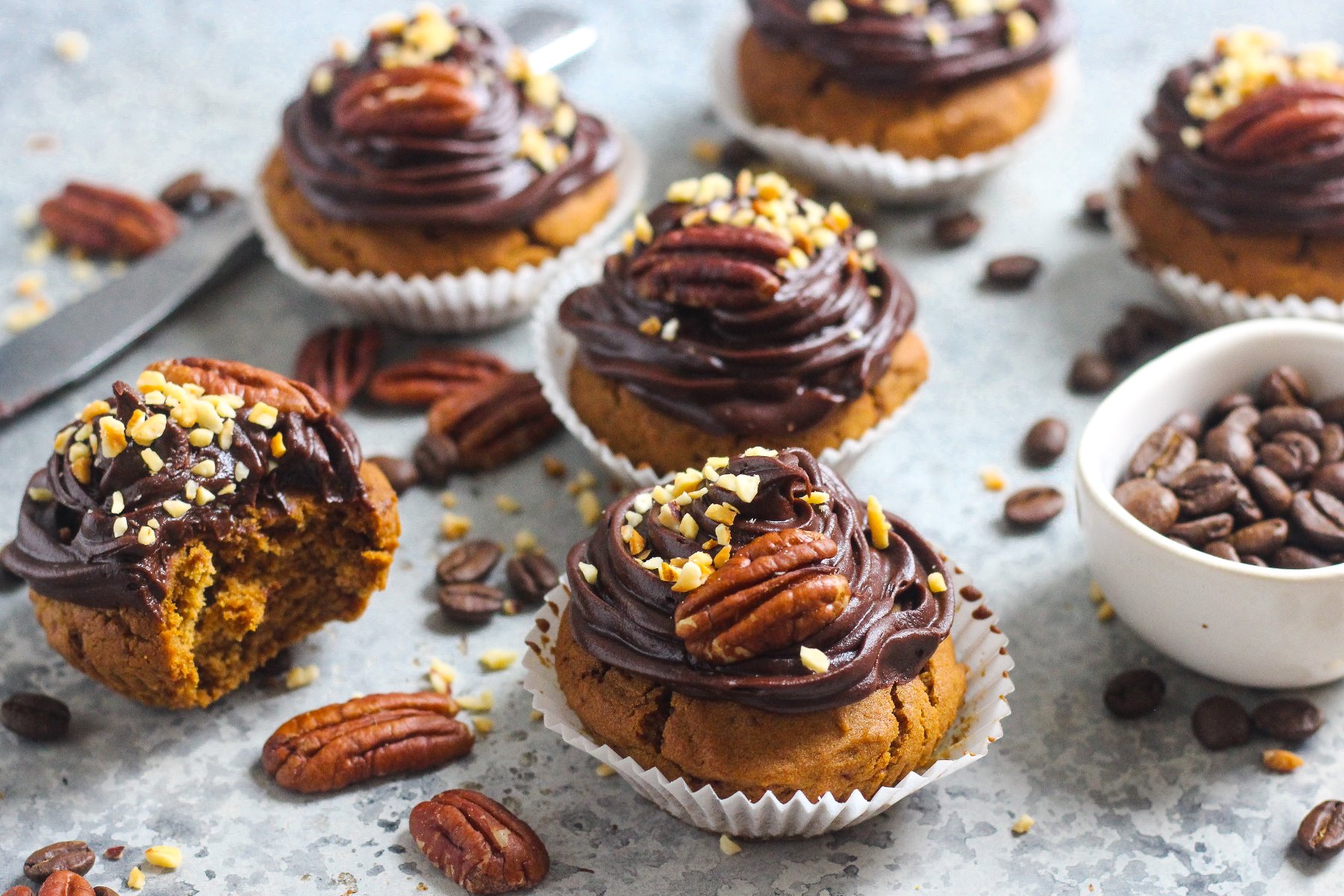 Recipe and images courtesy of Nourishing Amelia, Award Winning Blogger
Cupcake anyone? These vegan, gluten free cupcakes are the most deliciously decadent sweet treat you could ever wish for. The coffee sponge is the best texture - light, fluffy, sweet and moreish. The chocolate frosting is creamy and rich. Each bite of these free-from cakes just melts in your mouth and the flavour combination of coffee, chocolate & pecan is a dream!
Serve up to family and friends to truly impress them next time they come over for an afternoon cup of tea, whip them up for a birthday party or get baking in the kitchen with the kids! The perfect recipe for all.
Ingredients
300g gluten free flour
200g vegan margarine or coconut oil
180g coconut sugar
200g soy yogurt
100ml soya milk
3 tsp coffee granules (dissolved in a little hot water)
1 tsp vanilla extract
1 tsp baking powder
1 tsp bicarbonate of soda
Pinch of salt
Pecan halves for topping
For the dark chocolate frosting -
100g cashews - soaked overnight
3 tbsp coconut cream
2 tbsp cacao powder
2 tbsp coconut sugar
Method
1. Make sure to soak your cashews in cold water overnight or for a minimum of 4 hours.
2. Pre-heat the oven to 180 degrees celsius.
3. Add the vegan margarine or coconut oil and the coconut sugar to a bowl and whisk to cream together.
4. Add the soya yogurt to the bowl and mix together.
5. Sift in the flour then add in all the remaining ingredients. Mix together well to make your cake batter.
6. Line a cupcake tray with cupcake cases. Pour the cupcake batter into each case. You should make around 12-14 cupcakes.
7. Place in the oven to bake for 20 minutes.
8. Allow the cupcakes to completely cool before frosting.
9. To make the frosting start by draining and rinsing the cashews. Add the soaked cashews to a food processor along with all the other ingredients. Blend together until thick and creamy.
10. Pipe the frosting onto the cooled cupcakes, or gently spoon on top.
11. Finish with a pecan half and a sprinkling of chopped nuts