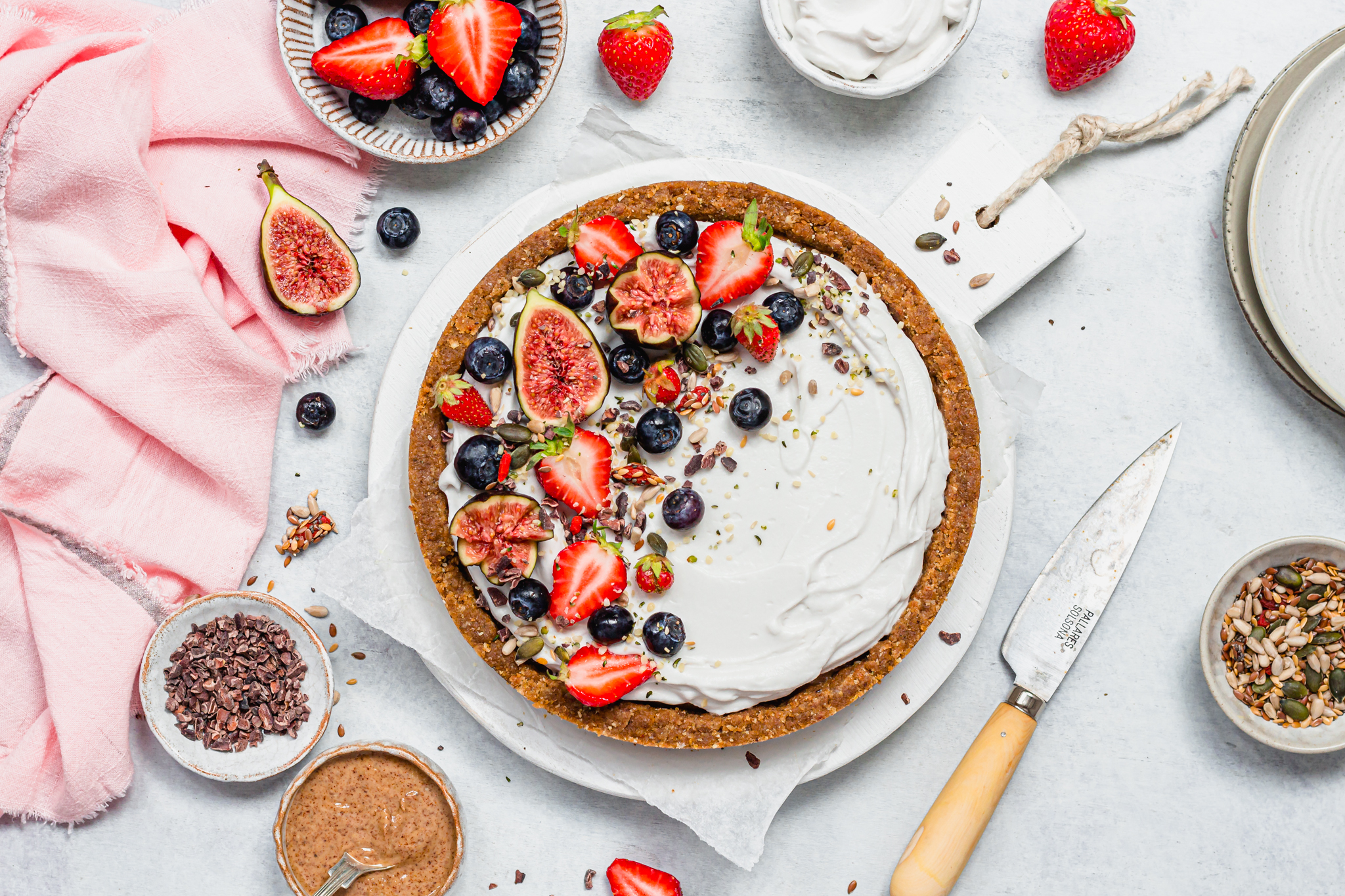 Recipe and images courtesy of Nourishing Amy (@nourishing.amy on Instagram)
This Coconut Caramel Granola Tart is no-bake and ready in less than an hour. It has a nutty, chewy and naturally sweet granola biscuit-y base filled with a gooey, no-date salted caramel topped with whipped fluffy coconut yoghurt/cream and fresh fruits and superfoods.
Serves 8-10
Ingredients:
For the crust:
150g oats
75g walnuts
50g mixed seeds (omega mix and hemp seeds)
1 tsp cinnamon
100g dates
50g almond butter
2 tbsp coconut oil, melted
For the caramel:
120g almond butter
4 tbsp maple syrup
3 tbsp coconut oil, melted
A pinch of salt
For the coconut:
250g thick coconut yoghurt or coconut cream
For the toppings:
Fresh fruit, cacao nibs, hemp seeds, omega seeds
Method:
Make the base of the tart: soak the dates in boiling water for 10 minutes and then drain. Add the oats, walnuts, seeds and cinnamon to a blender and process to a fine meal with small chunks. Add the drained dates, almond butter and coconut oil and blend again to form a sticky mix.
Grease and line the bottom of a 20-cm round loose-bottomed round tin. Press the sticky mix into the tin, working your way up the sides. Take your time to make the base and sides compact and even. Pop in the freezer for 10 minutes.
Make the caramel: whisk together all ingredients until smooth.
Pour the caramel over the tart and place in the fridge for 30 minutes.
Whip the yoghurt to make it lighter and fluffier if you like, or if using coconut cream, whip or beat this until fluffy. Once set, cover the caramel with the yoghurt/cream and your favourite toppings.
Store in the fridge, in a sealed container for 5-7 days.