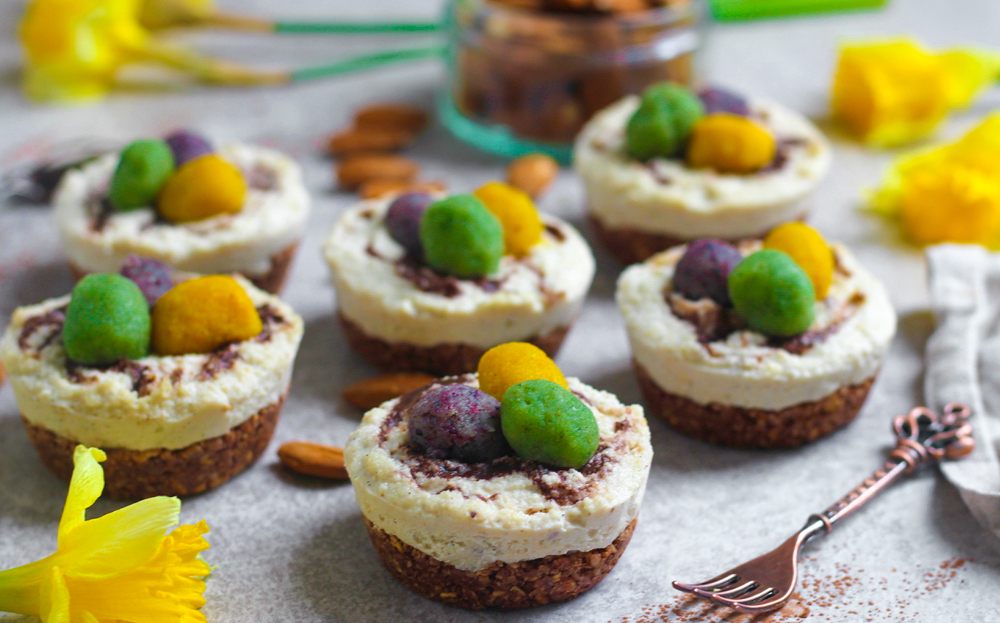 Recipe and images courtesy of Nourishing Amelia, Award Winning Blogger
Easter is only a matter of days away and this recipe for vegan & gluten free Chocolate & Vanilla Cheesecakes with Marzipan Mini Eggs ticks all the boxes for the perfect Easter recipe. They're sweet, they're delicious, and of course, they contain chocolate!
The cheesecakes may me completely indulgent but they're made from all natural, wholesome ingredients without any added sugar, preservatives or artificial ingredients. The creamy cheesecake is topped with cute marzipan mini eggs, which are coloured using natural food colourants such as turmeric powder. These cheesecakes are a great recipe to make with kids or to serve up for sweet treat on Easter Day.
Ingredients (makes 8 mini cheesecakes)
Base –
120g oats
100g almonds
1 tbsp coconut oil (melted)
4 tbsp maple syrup
1 tbsp cacao powder
Cheesecake
140g cashews – soaked overnight
1 tbsp coconut cream
5 tbsp maple syrup
2 tbsp water
2 tsp vanilla extract
Marzipan Mini Eggs
80g ground almonds
1 tbsp melted coconut oil
2 tbsp maple syrup
Natural ?avour colourings – turmeric powder, sprirulina or wheatgrass and acai powder
Method
Make sure you soak your cashews by covering them in cold water overnight (or for a minimum of 6 hours).
Start by making the marzipan mini eggs. Simply mix the ground almonds, maple syrup and coconut oil together to form a sticky mixture. Separate into 3 bowls, or however many colour mini-eggs your making and stir in your natural flavour colouring to each.
Shape the mixture into mini egg shapes using your hands and place on a plate. Leave to firm up a little in the fridge while you make the cheesecakes.
To make the base add the oats, almonds, coconut oil, maple syrup and cacao powder to a food processor and blend into a crumbly mixture.
Press this mixture down into your cheesecake moulds – I used a silicon cupcake tray. Then place into the fridge while you make the cheesecake filling.
Drain and rinse the cashews and add to a food processor along with all the other cheesecake ingredients. Blend until smooth and creamy! You will need to stop the blender and give the mixture a stir then blend again a couple of times.
Remove the cheesecake bases and the mini eggs from the fridge.
Spoon the creamy filling on top of each cheesecake base. Top with the mini eggs!
Place the cheesecakes into the freezer for 2 hours to set. Remove 10 minutes before serving.
Keep refrigerated and consume within 4 days.