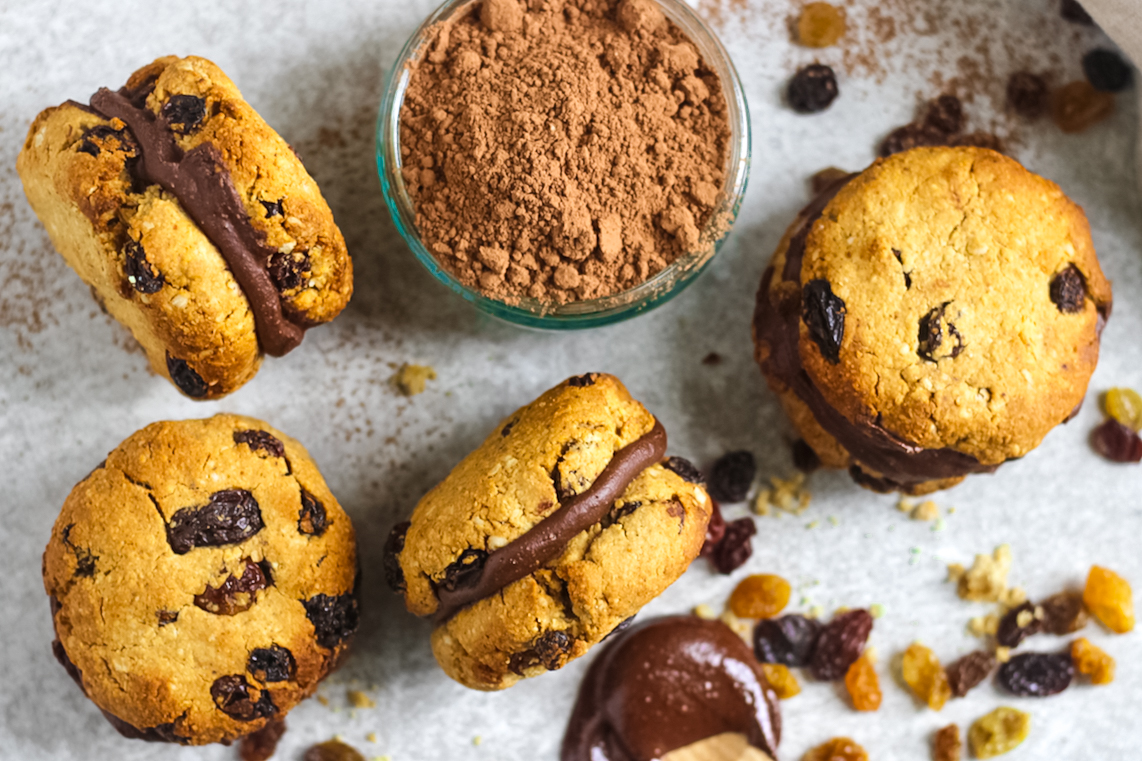 Recipe and images courtesy of Nourishing Amelia, Award Winning Blogger
We've all heard of sandwich cookies but I bet you've never tried this combination before! Chocolate & Raisin is a delicious pairing, there's something so yummy about the juicy sweet raisins together with the rich chocolate and works so well in this recipe.
The cookies are made with ground almonds and oats with sweet raisins throughout as well as a hint of cinnamon and vanilla, then we sandwich the cookies together with a smooth, rich, decadent chocolate ganache filling. The best super satisfying treat to take to school, college, uni or work!
Ingredients (Makes 5 cookies)
Cookies -
200g ground almonds
100g oats
80g coconut oil
50g raisins
5 tbsp maple syrup
4 tbsp soya milk
3 tbsp coconut sugar
3 tbsp almond butter
1 tsp cinnamon powder
1 tsp vanilla extract
1 tsp baking powder
Pinch of salt
Chocolate Ganache -
4 tbsp almond butter
1 tbsp coconut butter
1 tbsp maple syrup
2 tbsp cacao powder
Method
Pre-heat the oven to 160 degrees celsius.
Add the ground almonds, oats, cinnamon, vanilla, baking powder and a pinch of salt in a mixing bowl and mix well.
Add the coconut oil, almond butter, maple syrup, coconut sugar and soya milk to a food processor and blend into a smooth mixture.
Pour this wet mixture into the mixing bowl with the dry ingredients and mix well. Then fold in the raisins.
Line a baking tray with baking paper. Use your hands to shape the cookie dough into cookie shapes, placing them on the lined baking tray. Ensure you have an even number of cookies
Bake in the oven for 12-14 minutes. Allow to cool completely.
To make the ganache simply mix the almond butter, coconut butter, maple syrup and cacao powder together in a bowl.
Once the cookies are completely cool you can add the chocolate ganache. Simply layer around 1-2tsp ganache on the bottom side of one cookie and sandwich together with another cookie.
Place the cookies in the fridge for 15 minutes to cool the ganache to set.