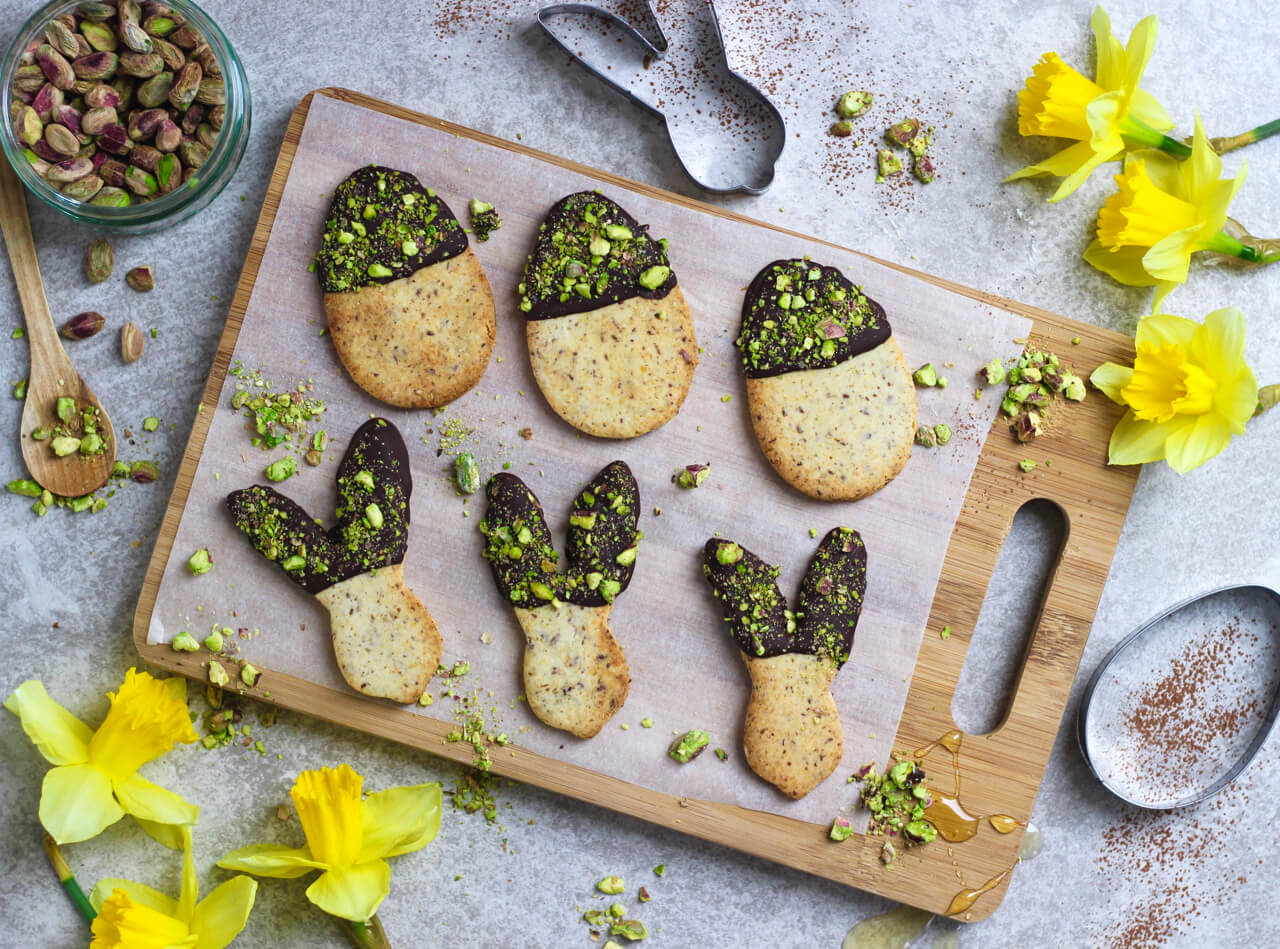 Recipe and images courtesy of Nourishing Amelia, Award Winning Blogger
It wouldn't be Easter without some delicious sweet treats, and these tasty Chocolate & Pistachio Biscuits will make the perfect recipe for the occasion.
The biscuit is simple, quick and easy to make with a great crunch and a sweet, smooth taste. The rich chocolate dipped side complete with vibrant crushed pistachios not only makes these biscuits really look something special but also makes them taste out of this world! The flavour and texture combinations work like a dream - every mouthful will fill you with joy. These cookies are gluten free, suitable for vegans and don't contain any refined sugar, making them suitable for the whole family!
Why not get in the kitchen and make these wonderful biscuits for your loved ones this Easter?
Ingredients (makes 8-10)
120g buckwheat flour
50g ground almonds
6 tbsp maple syrup
2 tbsp ground linseed (flaxseed) (mixed with 6 tbsp water)
2 tbsp melted coconut oil
3 tbsp water
1 tsp vanilla extract
100g dark chocolate
50g pistachios- chopped
Method
Pre-heat the oven to 150 degrees C.
Combine the flaxseed with the water and leave to thicken up for 5 minutes.
Add the flour and ground almonds to a mixing bowl followed by the maple syrup, melted coconut oil, water, vanilla and now thickened with flaxseed mixture. Mix well until a dough forms.
Roll the dough out to about 3cm thickness. TOP TIP - roll between two sheets of cling film to avoid sticking. Cut into fun Easter shapes using cookie cutters and place on a lined baking tray.
Bake in the oven for 10-12 minutes or until golden brown. Allow the biscuits to cool.
Melt the chocolate in a saucepan over a low heat, then dip the biscuits into the melted chocolate so they're half covered. Sprinkle chopped pistachios over the chocolate when it's still melted.
Place the biscuits into the fridge for 30 minutes so the chocolate sets then keep in an airtight container and consume with 4 days.