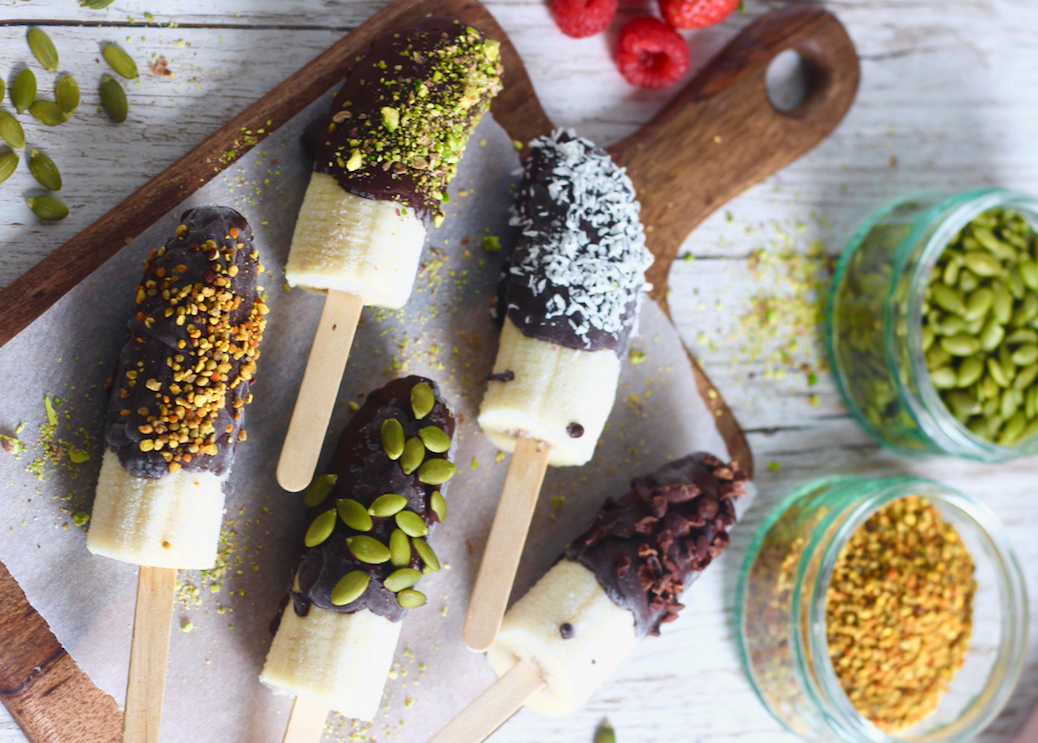 Recipe and images courtesy of Nourishing Amelia, Award Winning Blogger
Summer's on it's way and that means ice-creams in the sunshine! If you're looking for a healthier, lower sugar, dairy free ice-cream alternative you can easily make at home then you've come to the right place. These creamy, sweet chocolate banana ice cream pops will satisfy any ice cream craving and give you that cold treat you crave on a warm day.
When frozen the banana really does turn into an ice-cream like texture, which is a dream to bite into through the rich homemade dark chocolate. You can chose from a variety of different sprinkles (all available at Grape Tree) for extra decoration and delicious taste.
Ingredients (makes 6 pops)
3 bananas
60g cacao butter
4 tbsp cacao powder
3 tbsp maple syrup
Pinch of salt
Toppings – crushed pistachios, bee pollen, cacao nibs, pumpkin seeds, desiccated coconut
Method
Peel the bananas and cut them in half. Stick a lolly stick in the bottom of each banana half then place into the freezer overnight.
To make the chocolate, add the cacao butter to a saucepan over a low heat and allow to melt. Remove from the heat and stir in the cacao powder, maple syrup and pinch of salt.
Remove the frozen bananas from the freezer, then coat each banana with the melted chocolate. Sprinkle your chosen toppings over the top of the chocolate (whilst it's still melted!).
Place back into the freezer for at least an hour to allow the chocolate to set.
Enjoy! And if you liked this recipe, make sure you discover our range of delicious nuts, seeds and fruits, shop by your personal diet, and check out our dairy-free health foods and products.