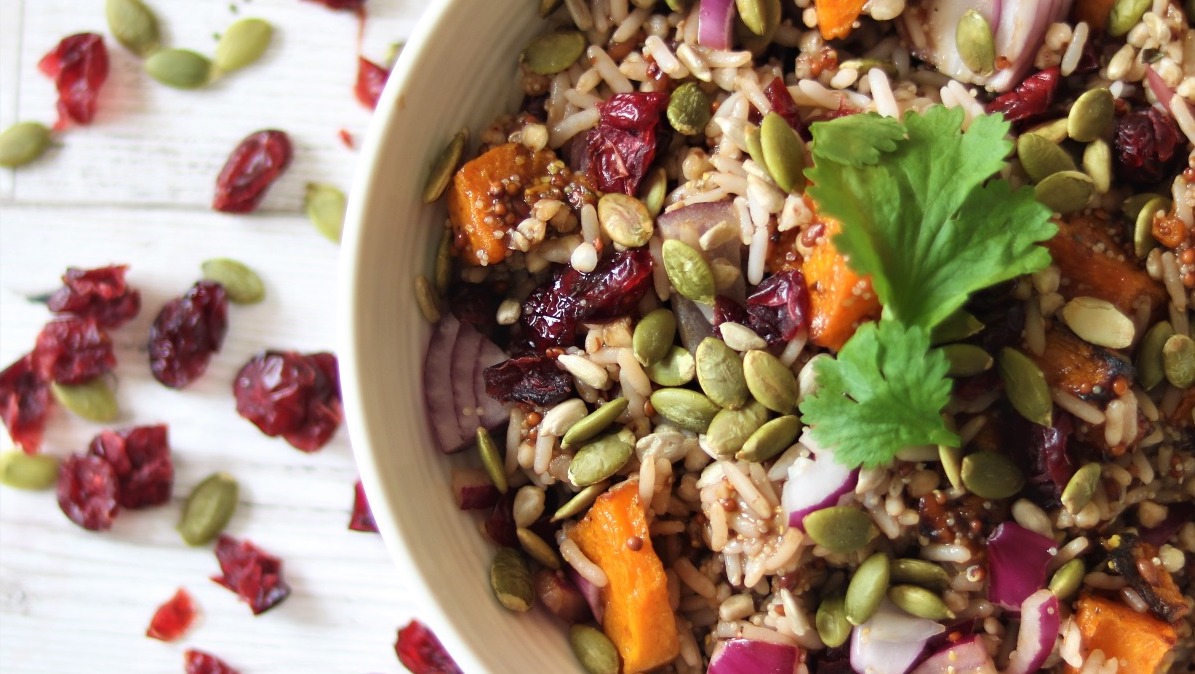 A delicious, healthy and nutritious combination of rice, buckwheat, amaranth, red quinoa and linseeds, a great source of fibre, protein and is low in fat, sugar and salt. 
There are many ways to incorporate quinoa and grains into your meal but, our favourite is making a big bowl of delish salad. Like this Butternut Squash, Seeds & Cranberry Salad, it makes a great lunch option to take out or, serve with dinner topped with sliced chicken for a wholesome meal. We have used butternut squash, cranberries and seeds in this tasty salad recipe. Don't be afraid to experiment and make it your own. Try toasted walnuts, almonds or pine nuts. All equally good choices!
Ingredients (Serves 4)
700g butternut squash, chopped
1 tbsp rapeseed oil or coconut oil
1 box uncooked Lupa organic
3 cups water
50g dried cranberries
1 large red onion, finely chopped
3 Tbsp. toasted sunflower and pumpkin seeds
salt and black pepper
Balsamic Vinaigrette:
4 tbsp olive oil
3 tbsp balsamic vinegar
1 tsp maple syrup
1 tsp Dijon mustard
1 garlic clove, minced
salt and black pepper
Method
Preheat oven to 400c
Cut the butternut squash into chunks, arrange on a baking tray and coat with either rapeseed oil or coconut oil. Sprinkle with dried herbs. Roast for 20-25mins or until squash is tender and lightly browned.
While the squash is roasting, boil 3 cups in a medium saucepan, add a pinch of salt and reduce heat to low. Add the content of Lupa Organic Rice, Quinoa and Grains Mix. Simmer for 5 minutes. Remove from the heat, drain any excess water and season to taste.
To assemble the salad, combine the cooked Lupa mix, roasted squash once cooled, cranberries, red onion in a large bowl. Add the vinaigrette mix until combined. Season with salt and pepper to taste.
Sprinkle with the seeds and serve.