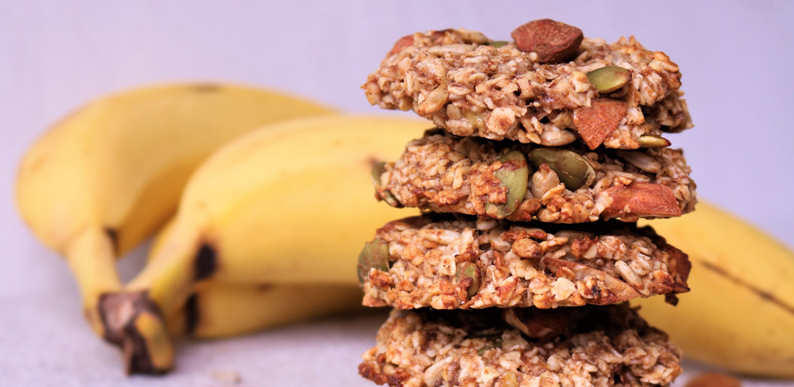 This is the quickest and simplest cookie recipe and they taste so good. It's a great way to make use of those over ripen bananas that are going to waste. They are also really healthy with no flour, no eggs and no butter! Simply mash the bananas and combine with the oats, cinnamon, maple syrup and coconut oil and leave for 10 minutes so the oats soften and soak up the flavours. Once the other ingredients are mixed well then, they are ready to go in the oven and the result, a crispy outer and soft centre cookie that taste great. These cookies make a great alternative to cereals in a morning. Or in a hurry, grab a cookie for breakfast on the go!
Ingredients (Makes 6)
1 ripe banana
100g oats
1 tbsp maple syrup
1 tbsp coconut oil
1 tsp cinnamon
1 tbsp sunflower seeds
1 tbsp pumpkin seeds
1 tbsp chopped almonds
Pinch of Himalayan salt
Method
Preheat your oven to 180c.
Place the banana in a medium sized bowl and mash it with a fork. Add the oats, maple syrup, cinnamon and coconut oil and mix well. Leave to rest on the counter top for 10 minutes, so that the oats can absorb the moisture from the other ingredients.
After 10 minutes, add in the pinch of salt, sunflower seeds, pumpkin seeds and chopped almonds. Stir to combine.
Take a tbsp. of the mixture in your hand, roll into a ball and then squash to flatten into a thick disk (approx. 1cm thick). Place on a baking tray and repeat until all your mixture is used up.
Place in the oven and cook for 15 minutes.