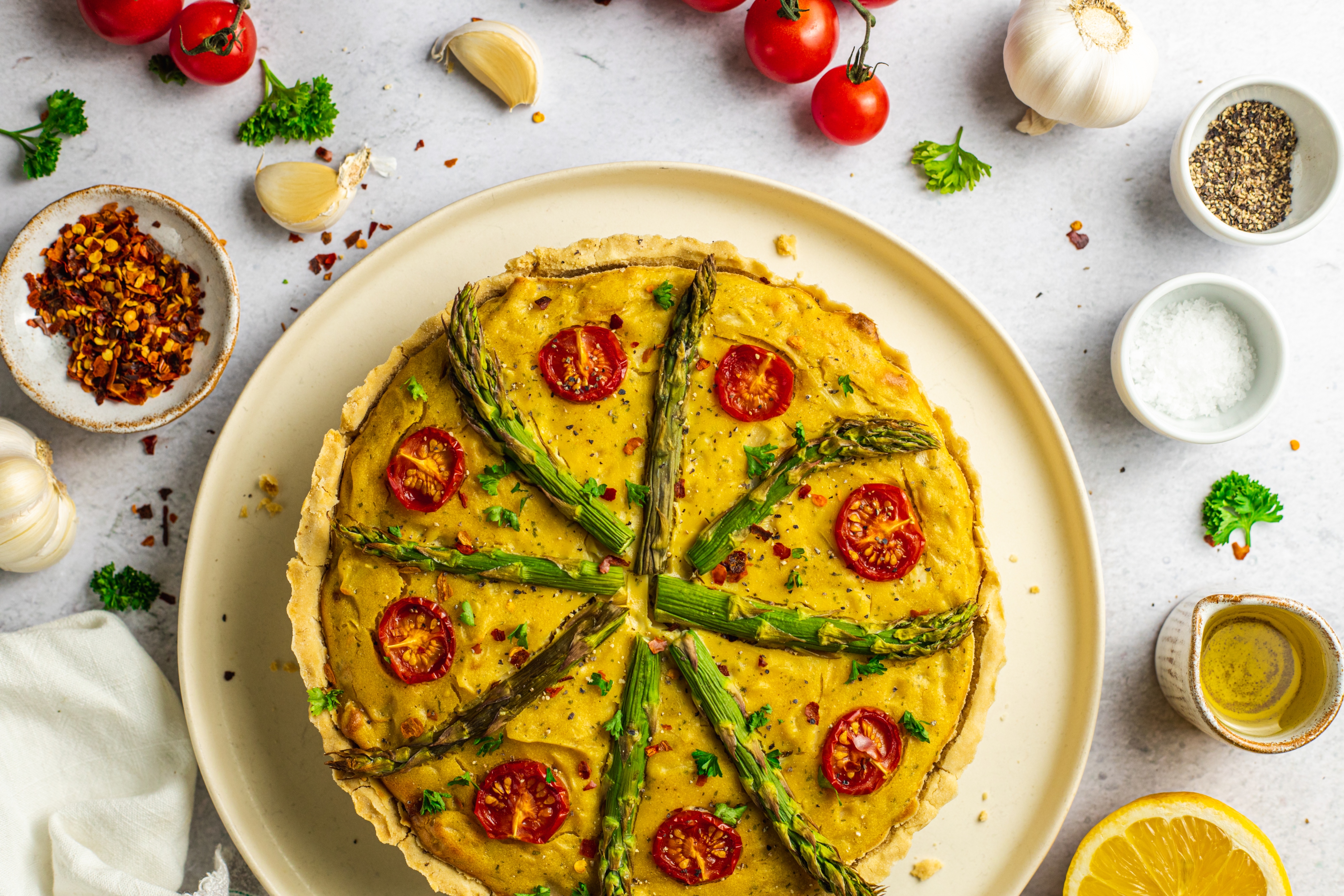 Recipe and images courtesy of Romy London (@romylondonuk on Instagram)
Make the most of the English asparagus during its very short season. This delicious quiche is the perfect for breakfast, lunch or dinner! It's also great for packed lunches and picnics as you can make it in advance and store in the fridge.
Prep time: 30 minutes
Cook time: 45 minutes
Ingredients (serves 8):
For the pie crust:
200g plain gluten free flour blend (Doves Farm)
1 tsp xanthan gum
1 tsp baking soda
A pinch of salt
100g dairy-free spread
For the quiche filling:
1 tbsp olive oil
1 onion, finely diced
2 cloves garlic, crushed
130g chickpea flour
300g silken tofu, blended
2 tbsp nutritional yeast flakes
120 ml soy milk
1 tsp dried parsley
¼ tsp black salt (kala namak)
¼ tsp black pepper
¼ tsp turmeric powder
For the topping:
150g green asparagus
A handful of cherry tomatoes (optional)
Method:
Start by preparing your gluten-free quiche pastry base: In a large bowl combine the gluten-free flour blend, xanthan gum, baking soda and salt, then add in the dairy-free spread in small chunks. Using your hands or a pastry whisk, combine all ingredients into a thick, crumbly dough until the spread is fully incorporated and no chunks remaining.
Wrap the dough in cling film and allow for it to rest for 15 minutes in the fridge. In the meantime, preheat your oven to 190°C (375°F).
Lightly dust a 6-7 inch tart tin with a little gluten-free flour, then add your pastry dough to the tin, pressing it evenly into the bottom and sides of the tin until covered and around 0.5cm (¼inch) thickness. Piece the bottom with a fork around 8-10 times, then cover with baking parchment and place baking beans or dried legumes inside. Blind bake the pastry in the oven for 12-15 minutes, then carefully remove the baking beans and set aside.
To a blender or food processor, add the silken tofu, nutritional yeast flakes, black salt, soy milk, black pepper, turmeric powder and dried parsley and blend until smooth, then slowly mix in the chickpea flour until you get a thick batter.
Pour the batter into the pastry base and decorate the top with fresh asparagus and cherry tomatoes, then transfer your chickpea flour quiche to the pre-heated oven and bake for 25-30 minutes or until the edges of your quiche begin to lightly brown.
Remove the quiche from the oven and allow for it to cool for 10 minutes before gently removing it from the tart tin and slicing it into portions.