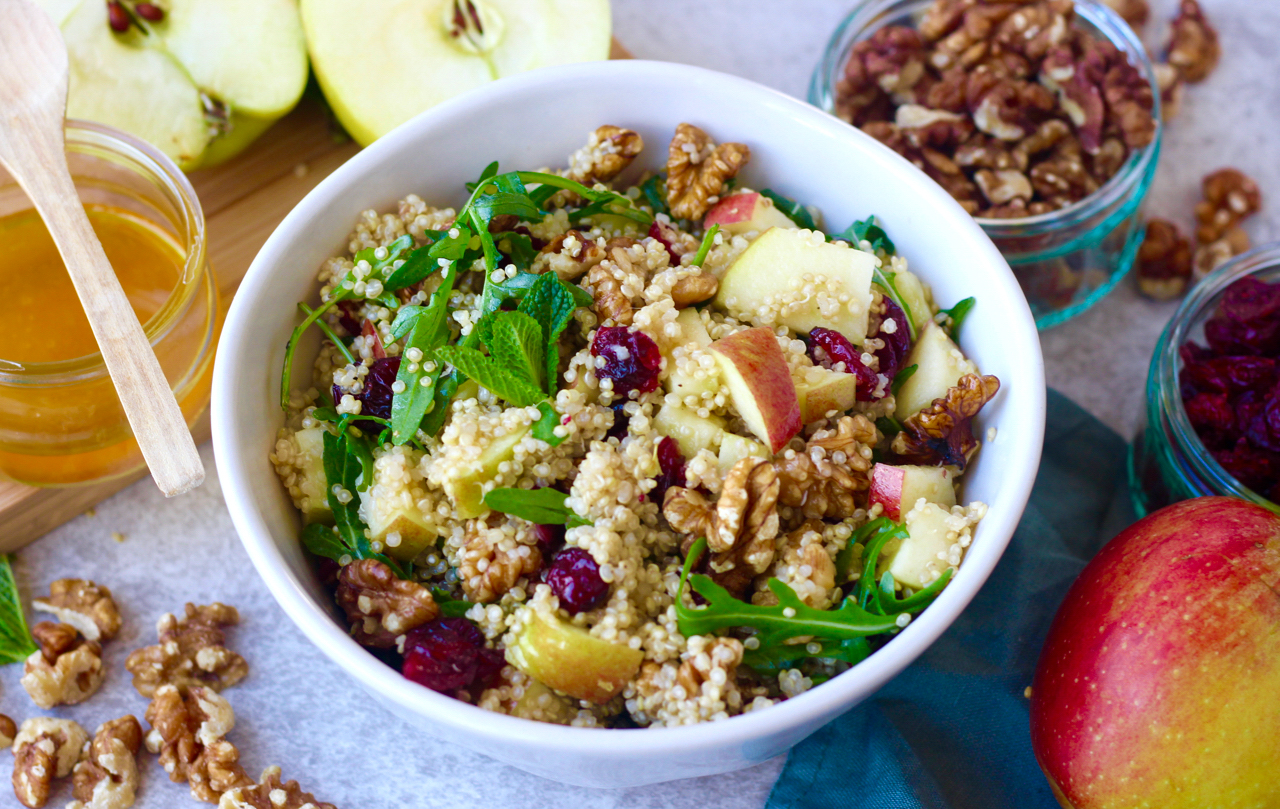 Recipe and images courtesy of Nourishing Amelia, Award Winning Blogger
This fresh, nutty, sweet quinoa dish is the perfect salad with a delicious combination of flavours and texture as well as a great balance of healthy fats, slow-releasing carbohydrates and plant-based protein. The quinoa and walnuts ensure this dish is incredibly filling, the juicy cranberries and fresh apple bring a natural sweetness and the dressing made from rapeseed oil, apple cider vinegar and coconut nectar compliments all the ingredients like a dream. Enjoy on its own as a satisfying lunch or serve with a veggie burger for an amazing plantbased dinner.
Ingredients (serves 2)
100g quinoa
50g dried cranberries
40g chopped walnuts
1 apple
50g rocket
2 tbsp rapeseed oil
1 tbsp apple cider vinegar
2 tbsp coconut nectar
Salt & pepper
Method
Add the quinoa to a saucepan along with 200ml water and a pinch of salt. Bring to the boil then reduce to a simmer and cook for around 10 minutes, or until the quinoa soaks up the water and becomes fluffy. Allow to cool slightly whilst you prepare the rest of the ingredients for the salad.
To make the dressing mix the rapeseed oil, apple cider vinegar and coconut nectar together until fully combined.
Core the apple and chop into small pieces. Stir the apple in with the quinoa, dried cranberries, chopped walnuts and rocket then drizzle in the dressing and mix again. Sprinkle with salt and pepper before serving.